For two formidable teams (Kansas City Chiefs vs. San Francisco 49ers), it's the culmination of a season. (And for us, it's a great excuse to indulge in all the best tailgating snacks.) It's a grueling seven-month schedule with tons of variables from pre-season training camp to regular season kick-off to post-season playoffs.
Just like all the games leading up to the Super Bowl, a lot can happen throughout a lifetime. So many variables, so many strategies, upsets, and so many potential outcomes.
While it may be difficult to ponder the inevitably of your own timer running out, preparation for what happens after your season ends is indeed necessary.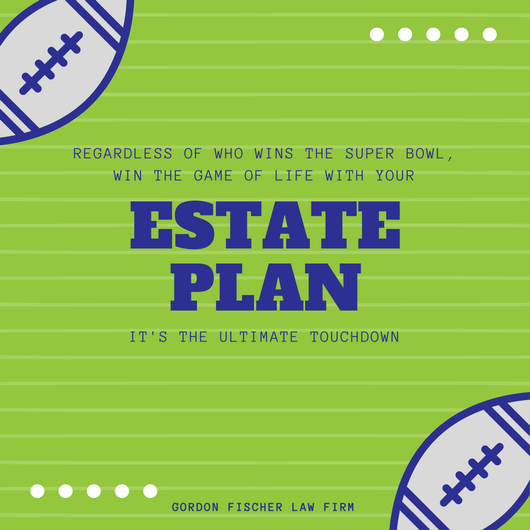 The Main Players
Estate plan – An estate plan is the whole playbook, generally containing the following documents: your will; healthcare power of attorney; financial power of attorney; disposition of personal property; and final disposition of remains.
Will – A will is a superstar which can accomplish so much for your team. For example, who will quarterback the distribution of your property at the end of the game? You need to make certain the will is well crafted, solid, and can stand up in court. Keep in mind though, important assets such as retirement assets and investment accounts may well contain beneficiary designations that actually trump your will.
Health care power of attorney  & financial power of attorney – Don't let a sudden disability completely take you out of the game. Have someone strong come off the bench to carry you to your personal goals.
Trust – You have lots of different options with this multi-tool MVP. A trust can help your team in so many different ways and provide you huge advantages in every facet of the game.
Get a Good Playbook!
Thorough planning is the best way to plan for the end of your season so that you and your family are never caught unprepared. When you are no longer around to coach and care for the rest of your "team," make sure they are both provided for and are provided training on how to keep pushing forward by settling your affairs. A comprehensive estate plan, written by an experienced estate planner, is the best way to do this.
No 'I' in Team
Your loved ones and close friends are all a part of your team; part of being a strong team player is including them on the plays you're making. Discuss important aspects of your estate plan with the people it involves to avoid any confusion or conflict when it comes times for them to carry out your wishes. For instance, if you have minor children (under age 18) you're going to want to establish legal guardianship if the worst happens and you're no longer around to care for them. You'll want to discuss with your chosen guardians ahead of time to make sure they're willing and available to carry out the responsibility.
Lineup Adjustments
Pro football coaches switch up who's starting for the best winning strategy. Similarly, you may well need to make adjustments to your estate plan "lineup" as things inevitably change over the course of your life. Big events like marriage, the birth of a child/grandchild, moving to a different state, a large change in financial status, divorce, and other significant changes are a good reason to review your designated representatives, beneficiaries, and overall goals.
Charity Factor
Pro football players make bank, but many also make significant contributions to charities they care about. Some NFL players have founded their own charitable foundation, while others focus on a few nonprofits whose missions they care deeply about. For instance, Chris Long, the Eagles defensive end, announced last fall he will donate his entire salary ($1 million) from the season to educational charities. Most players also work together as a team to give back to their communities. The league as a whole also supports building awareness for nonprofits through initiatives like "My Cause, My Cleats."
Given their high profile sports status, these players also help inspire folks across the country to do the same. (In one great example, these football fans donated to NFL players' favorite nonprofits!) You too can be a fierce philanthropist, but without actually having to sprint, throw, or sweat! You can include your favorite charities in your estate plan as beneficiaries. Then there are the other charitable giving tools that can be included as a part of your "end game" like charitable gift annuities and the charitable remainder trust.
Winning Score
I cannot predict who will win the Super Bowl today, but I can say without a doubt that you never know when the game is going to change. You never know when you (and/or your team members) are going to need any one of the documents a part of your estate plan. So, you need to have your "playbook" written out ASAP…well, you can wait until after the big game!
The best place to start on your estate plan is with my free, no-obligation Estate Plan Questionnaire. You can also shoot me an email or give me a call at 515-371-6077 to discuss your situation (or football).
https://www.gordonfischerlawfirm.com/wp-content/uploads/2018/02/Screen-Shot-2019-02-03-at-2.06.47-PM.png
572
1036
Gordon Fischer
https://www.gordonfischerlawfirm.com/wp-content/uploads/2017/05/GFLF-logo-300x141.png
Gordon Fischer
2020-02-02 11:00:40
2020-05-18 11:28:37
Love Super Bowl Sunday? Then You'll Love Estate Planning!