August includes it's fair share of obscure "holidays" including National Catfish Month, Friendship Week, and Bad Poetry Day. This month is also your chance to celebrate National Make-A-Will Month! (Yes, seriously. This is a thing.) I recommend celebrating this quite literal month by creating an estate plan. A will is one of six key documents in a quality, individualized estate plan. (If you were to elect to make a living revocable trust a part of your plan, then you would still need a will—often referred to as a pour-over will—it would just read a little different!)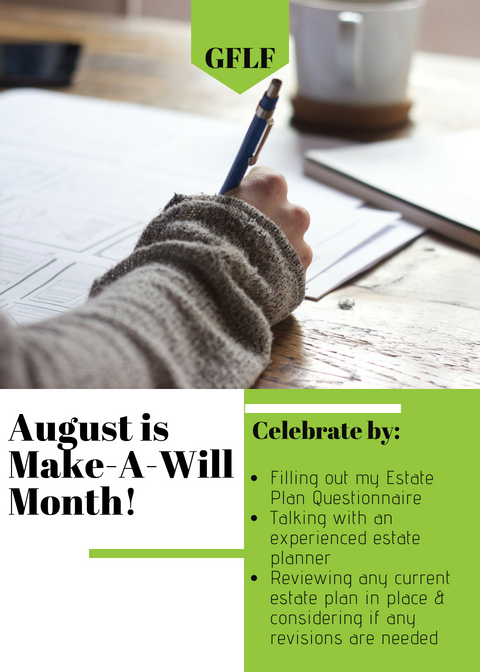 Depending on your personal/family situation and assets, a will can be a bit more complicated and longer in page length than the other estate plan documents. It's important you work with a lawyer experienced in estate planning to be sure your will covers the three major questions of:
Who do you want to be the executor of your will? The executor is in charge of carrying out your directions and wishes as expressed in the will. They will also pay any outstanding debts and distribute assets as you express in the document.
Who do you want to be the legal guardians for your minor children until they're adults (age 18), if something were happen to you?
What do you want done with both your tangible and intangible property? (An example of tangible property is your books or your boat. Intangible property includes assets like stocks.)
Yet another reason to work with a professional estate planner to craft a will is to avoid costly mistakes and to legitimately donate to your favorite charities.
Why Does a Will Matter?
I cannot reinforce enough that everyone NEEDS a will. Leaving your family and friends without a clearly written will in place can result in worst case scenarios such as litigation or confusion in who is to be the proper guardian of your minor child(ren). Real world examples of this are unfortunately all too common and no one is immune. For instance, Prince died without a will leaving family infighting and conflict.
Without a will the Iowa probate court is forced to name an executor and there is the possibility that the appointed executor is not who you would have chosen. It's simply better not to gamble with who has control over dispersing your hard earned assets.
Regular Revisions
If you already have a will (and other necessary estate planning documents) congrats! You're better prepared for the inevitable than about half of Americans. Yet, just because you created an estate plan at one point doesn't mean it automatically adapts to how your life changes.
While estate plans never expire, for your will to be most effective it needs to be reviewed at least annually and updated as needed. Common scenarios for estate plan revisions can be a death in the family, change in marriage status, birth of a child, major changes in financial situation, and moving out of state.
Your estate plan should also be updated if your goals change over time. For example, you may want to alter the amounts of inheritance or increase/decrease charitable bequests.
Where There's a Will There's a Way
I would love to help you solidify your family's future, help you achieve peace of mind, and celebrate Make-A-Will Month in the best way you can! The best place to start is by filling out my Estate Plan Questionnaire. It's easy, free, and there's no obligation. It's simply a document that gets you thinking and planning. You can also contact me at any time via email (Gordon@gordonfischerlawfirm.com) or phone 515-371-6077.
https://www.gordonfischerlawfirm.com/wp-content/uploads/2017/08/green-chameleon-21532.jpg
3456
5184
Gordon Fischer
https://www.gordonfischerlawfirm.com/wp-content/uploads/2017/05/GFLF-logo-300x141.png
Gordon Fischer
2018-08-05 04:18:04
2020-05-18 11:28:52
August is National Make-A-Will Month