Hopefully, by now you have had a chance to read last month's GoFisch Book Club pick, "Made to Stick: Why Some Ideas Survive and Others Die." While I could complain about how the weather right now in Iowa is in a perpetual state of snow-ice-snow-wind-freezing rain, it's actually a great excuse to curl up with cocoa and a great book. The title for this month is not a new book, but it is an enticing, mystery involving, what else, estate planning!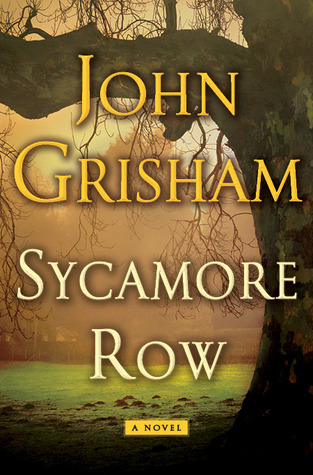 Published in 2013, John Grisham's Sycamore Row leads readers on a trip to the south in 1980's Mississippi where a wealthy white man, Seth Hubbard, commits suicide and leaves his entire estate to his black housekeeper, Lettie Lang, instead of his two adult children, Herschel and Ramona. (I bring up the race of the characters because racism and prejudice are important themes in the novel's setting and plot conflicts.) Sycamore Row is a sequel for fan-favorite character and fictional attorney, Jake Brigance, who was introduced to the world in Grisham's most famous book, A Time to Kill.
Brigance is instructed by the decedent to defend his will against the inevitable controversy and litigation he anticipates will ensue. Over the course of the thriller, another will is unearthed which disposes the estate to Hubbard's children. There are also serious questions about Hubbard's purported testamentary capacity, as well as undue influence on the legal documents in question.
Grisham's career as an attorney has clearly influenced his writing, and this novel offers suspense and intrigue around the topic of estate planning, while also reinforcing the importance of making a valid estate plan, keeping it updated, and discussing your decisions with your family.
What are your thoughts on Sycamore Row? I would love to hear them! Also, if the book inspires you to make certain you have a valid estate plan in place so that you can disperse your estate in accordance with your wishes, don't hesitate to contact me! You can also get started on your estate plan with my free, no-obligation Estate Plan Questionnaire.
https://www.gordonfischerlawfirm.com/wp-content/uploads/2019/02/Screen-Shot-2019-02-17-at-4.12.57-PM.png
598
1052
Gordon Fischer
https://www.gordonfischerlawfirm.com/wp-content/uploads/2017/05/GFLF-logo-300x141.png
Gordon Fischer
2019-02-16 12:33:49
2020-05-18 11:28:49
Cozy Up this GoFisch Book Club Pick: Sycamore Row