In the lead up to Valentine's Day, I'm exploring here on the blog how love can translate to estate planning. Thus far we've covered the best V-Day gift to give your spouse, advice on where to store your estate plan (and it's not a chocolate heart box!), and how an affinity for football makes understanding estate planning easy. Romance and gift guides aside, this #PlanningForLove series would be incomplete without featuring the love for your pet.
Let's be for real for a minute. The relationships we have with our pet(s), be they a dog, cat, amphibian, pocket piglet, parrot, or pony are some of the most comforting and consistent. Who else will lick your face, eat snacks out of your hand, demand belly rubs, or get the most Instagram likes? Our pets are a part of our family and it only makes sense to include them in estate planning documents and decisions concerned with the continued care for our loved ones.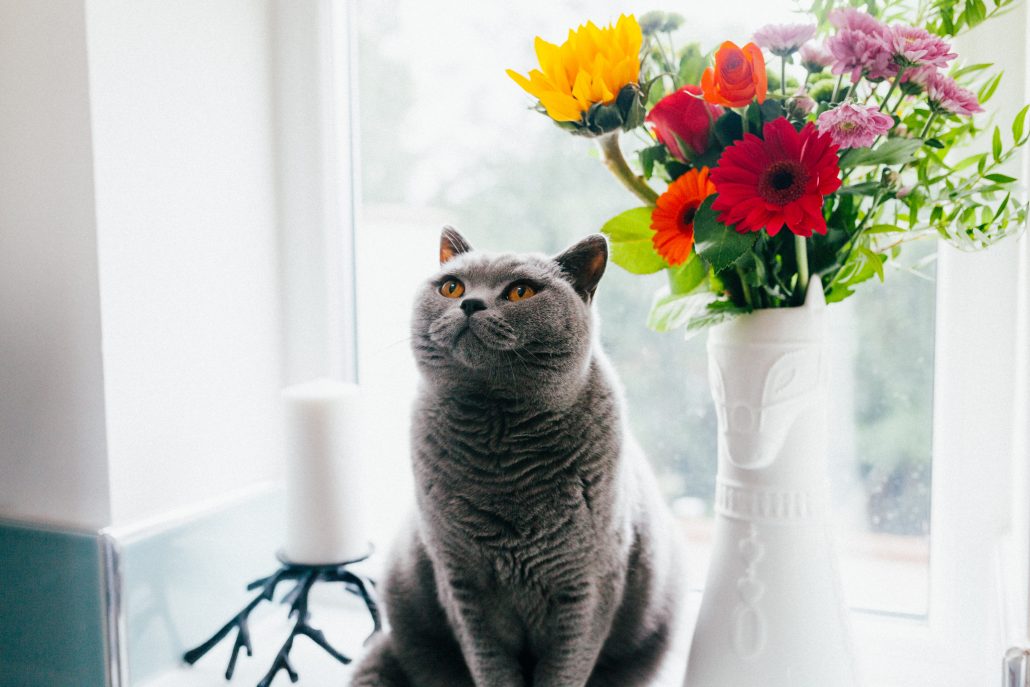 The best way to include your furry and feathered friends in your estate plan is with an animal care trust (sometimes known as a pet trust). This is a special kind of trust different from a living revocable trust or an inter vivos trust. An animal care trust specifically provides for the care of your pet in the event that something were to happen to you. In the trust you'll likely want include the following information:
Sufficiently identify your pets and include a provision that describes your pets as a class through phrasing such as  "the pet(s) owned by me at the time of my death or disability."
Describe your pet's standard of living, care, and include any regular and special instructions. You can get as specific or general as you want at this point. For example, if your bird only likes a particular brand/type of food, or your dog thrives when she plays catch once a day, this can be specified in a trust agreement. If you want your pet to visit the veterinarian for check-ups three times a year, this can also be written in.
Determine the amount of funding that's needed to adequately cover the expenses for your pet's care. Generally, this figure can't exceed what may reasonably be required given your pet's standard of living.
Designate a trustee, caregiver, and remainder beneficiary. Also, designate successor trustees and caregivers if for some reason either becomes unable or unwilling to fulfill their role. The remainder beneficiary is who receives the trust assets if trust funding outlives the beneficiary (your pet).
Specify how the funding should be distributed to the caregiver from the trust.
Provide instructions and wishes for the final disposition of your pet (for example, via burial or cremation).
Check out and feel free to share this infographic with your fellow pet parents. (Click here to see the pdf version.)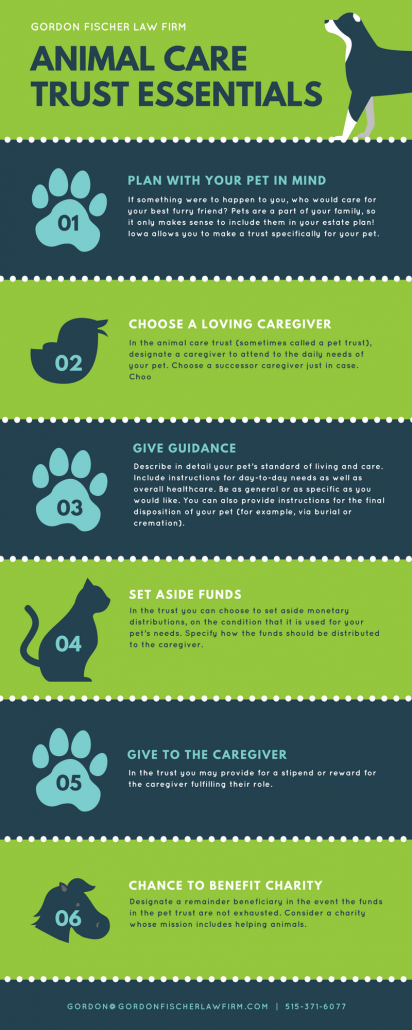 Valentine's Day is coming up, so let's discuss how to show your continued love for your pets, even if something unexpected were to happen to you. Contact me via email or phone (515-371-6077).
https://www.gordonfischerlawfirm.com/wp-content/uploads/2018/02/Screen-Shot-2019-02-07-at-11.23.04-PM.png
670
1027
Gordon Fischer
https://www.gordonfischerlawfirm.com/wp-content/uploads/2017/05/GFLF-logo-300x141.png
Gordon Fischer
2020-02-11 12:55:11
2020-05-18 11:28:36
Animal Care Trust: Continued Care & Love for Your Pet