Recently I had the pleasure of presenting on the legal and financial duties of nonprofit boards at the Iowa Museum Association. One of my main core services is nonprofit formation and compliance, and a nonprofit's board of directors (or supervisors, depending on what they're called) is essential to both of those categories.
Had a great time speaking with the wonderful people at the #Iowa #Museum Association on the legal & financial duties of #nonprofit boards, earlier this week! 👨🏼‍💻👨🏼‍💼#presentation #GFLF #boardroom #nonprofitlaw

Posted by Gordon Fischer Law Firm, P.C. on Wednesday, July 11, 2018
When submitting a 501(c)(3) application (or a different type of tax exempt application), the IRS almost always requires at least three distinct individuals be listed on the board of directors. In terms of compliance, the nonprofit board is the governing body of the organization and therefore has distinct duties and obligations to the corporation.
Whether just starting out or continuing a long-standing tradition of operational excellence, it's essential your nonprofit's board know their responsibilities, understand their fiduciary role, and implement best practices. This goes for the board of directors as a collective body, as well as each of the individual directors.
Each nonprofit organization is unique and consequently, each nonprofit benefits from individualized counsel on how to maximize board operations. But, there are general guidelines of good advice that apply across the board. (Ha! Get it?) To that point, I've created a resource explaining board duties, best practices, and legal and financial responsibilities that most all nonprofits will find useful. If you're a nonprofit leader (such as an executive director) you could even print this out and include it in board orientation materials and board handbook.
Download your copy of the "Best Board Ever" guide here!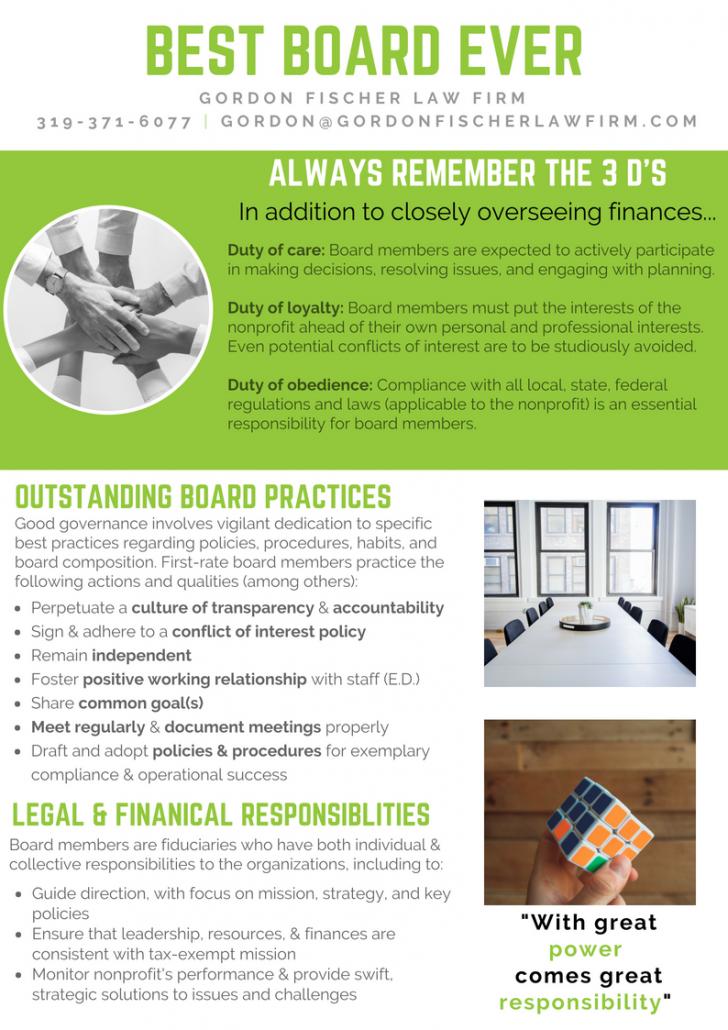 Questions? Thoughts? Need a speaker to present on a topic related to nonprofit formation and guidance or employment law? Don't hesitate to contact Gordon via email at gordon@gordonfischerlawfirm.com or by phone at 515-371-6077.
https://www.gordonfischerlawfirm.com/wp-content/uploads/2018/07/Screen-Shot-2018-07-25-at-3.26.15-PM.png
591
1060
Gordon Fischer
https://www.gordonfischerlawfirm.com/wp-content/uploads/2017/05/GFLF-logo-300x141.png
Gordon Fischer
2018-07-25 15:27:10
2020-05-18 11:28:52
Best Board Ever: Your Nonprofit Needs this Free Guide