You've probably heard it before on your favorite law show or movie court case, but do you know what "quid pro quo" actually means?
Quid pro quo ("something for something" in Latin) means an exchange of goods or services, where one transfer is contingent upon the other.
Quid pro quo can have different meanings in different areas of the law.
For example, the term has a very particular meaning in employment law where "Quid pro quo" is a type or kind of sexual harassment. "Quid pro quo" harassment occurs in the workplace when a manager or other authority figure offers that he or she will give the employee something (a raise or a promotion) in return for that employee's satisfaction of a sexual demand. Obviously quid pro quo in this context creates a big illegal.
The singular mission of Gordon Fischer Law Firm, P.C. is to promote and maximize charitable giving in Iowa. So, in the arena of philanthropy and nonprofits, what does quid pro quo mean?
A charitable donation is deductible—to the extent the donation exceeds the value of any goods or services received in exchange. So what happens when you donate to your favorite charity and receive something tangible in return? This is the issue of "quid pro quo" in charitable gift law.
Quid Pro Quo Example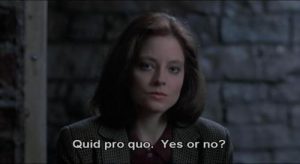 If a donor gives a charity $100 and receives an opera ticket valued at $40, the donor has made a quid pro quo contribution. In this example, the charitable contribution part of the payment is $60. The donor is entitled to a charitable deduction for $60, but not the entire $100.
Both the donor and donee have a responsibility here. The donor, of course, can only deduct the cost of the donation less the value of the goods/services received. The charity must provide their donors clear, written documentation of the value of donations.
In fact, in these quid pro quo situations, under IRS rules, the nonprofit must provide a written disclosure statement. This required written disclosure statement must both:
• Inform the donor that the amount of the contribution that is deductible for federal income tax purposes is limited to the excess of any money (and the value of any property other than money) contributed by the donor over the value of goods or services provided by the charity.
• Provide the donor with a good faith estimate of the value of the goods or services that the donor received.
Free Consultation
If your favorite charity wants to talk with me, no quid pro quo is required! I offer a free one-hour consultation, with absolutely no obligation. I can always be reached by email at Gordon@gordonfischerlawfirm.com, and by phone at 515-371-6077.
https://www.gordonfischerlawfirm.com/wp-content/uploads/2017/04/Quid-FEATURED.jpg
857
2160
admin
https://www.gordonfischerlawfirm.com/wp-content/uploads/2017/05/GFLF-logo-300x141.png
admin
2017-04-01 09:46:20
2017-04-01 09:46:20
(Legal) Word of the Day: Quid Pro Quo