The 2018 Global Trends In Giving report is full of important and valuable statistics for nonprofit professionals. These statistics are not just interesting, but can also impact your donor plans and marketing strategies. But, December is an incredibly busy month with all the year-end fundraising pushes and policy reviews in prep for the coming operating year. So guess what? I read it for you! (You're welcome.)
The 28-page report, sponsored by Public Interest Registry (PIR) with research completed by Nonprofit Tech for Good, surveyed a global sample of more than 6,000 donors in a time period from April through June of 2018. (It should be noted that although global, the results only represent the views of respondents that read in languages Arabic, English, French, Portuguese, or Spanish; have access to the Internet, and use email and/or social media.) 
Here are just a few highlighted insights from the report:
There are some clear similarities across generations. For instance, Millennials, Generation X, and Baby Boomers all prefer to give online, compared with options like cash, bank/wire transfer, and mail. Furthermore, approximate 14-15% of each generation group gave on #GivingTuesday 2017. Additionally, approximately 56% of donors from each generation group attend fundraising events. 
Millennials and Generation X donors are both most inspired to give through social media and their top cause category is children and youth. In comparison, Baby Boomers are most inspired to give through email and their top category cause is health and wellness.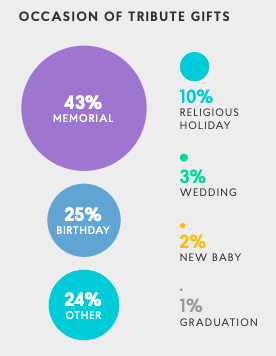 By gender, women make tribute gifts more often than men (35% v. 21%). However, male and female donors are within 1 percentage point of one another when it comes to enrollment in a monthly giving program (~55%) and volunteering locally (~67%).
Social media, closely followed by email, are the communication tools that most inspire giving.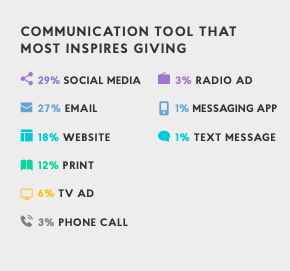 P

lanning your social media awareness and advertising for the year ahead? Facebook remains the undisputed champion of online donations.
Your nonprofit's website should end in .org. 68% of donors most trust the ".org" domain extension. 

Adopting policies such as those regarding ethics, document retention, and confidentiality are essential! 92% of donors say it is important charitable organizations "make a concerted effort to protect their contact and financial info from data breaches."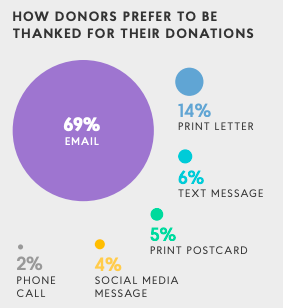 When thanking donors, the majority (69%) prefer email the most.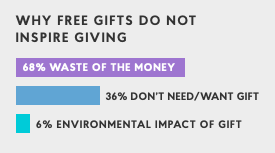 When thinking about incentivizing and inspiring donors, free gifts don't always do the trick. Only 20% of donors are more likely to donate if they're offered a free gift. (Plus, donors need to be aware of considerations when claiming quid pro quo donations.)
Again, these are just a few of the most important figures picked from an extremely well done and detailed report, 2018 Global Trends In Giving. If you give the report a read, what were the most unexpected and unique statistics to you? I'd love to hear your thoughts and insights!
For any aspect of donation facilitation, organizational compliance, as well as legal training, I'm happy to provide beneficial services to help your nonprofit best pursue its mission. Don't hesitate to reach out via email or phone (515-371-6077) at any time.
https://www.gordonfischerlawfirm.com/wp-content/uploads/2017/12/rawpixel-com-445828-e1514078162985.jpg
2401
5683
Gordon Fischer
https://www.gordonfischerlawfirm.com/wp-content/uploads/2017/05/GFLF-logo-300x141.png
Gordon Fischer
2018-12-25 19:15:15
2020-05-18 11:28:49
25 Days of Giving: Global Trends in Giving Report