Martin Luther King Jr. Day is tomorrow (January 20) I think it's important to pay tribute to a man who truly championed ideals of equity, freedom, peace, and justice. Among his many accomplishments, Dr. King tirelessly pushed for nonviolent activism and peaceful resolution to human rights issues. He reportedly wrote five books and gave hundreds of speeches in a single year…more than most of us could produce in a lifetime. And, there's no doubt that he was a key player and influencer in the passage of the U.S. Civil Rights Act of 1964. Dr. King was subsequently was awarded one of the highest honors in the world in 1964—the Nobel Peace Prize—for "his dynamic leadership of the Civil Rights movement and steadfast commitment to achieving racial justice through nonviolent action." (He donated the prize money, $54,123, back to the civil rights movement.)
Dr. King and his lasting legacy can undoubtedly serve as an inspiration to us all. I see his dream of a better world—a better future for all—exemplified in action by the hardworking Iowa-based nonprofit organizations. I also see his lessons being practiced by the wonderful donors who support these organizations and advance their missions.
So, yes, it's nice to have a day off of work, but make certain the day doesn't pass you by without setting a plan in place to perform some form of service for others.
Dr. King tirelessly pursued the advancement of human rights for the greater good and we can honor him by practicing forms of charitable giving as a way to advance our communities. Be it through volunteering time to an organization that speaks to your heart (remember, certain costs associated with volunteer can be tax deductible), setting up a donor-advised fund, or simply writing a list of the nonprofits you would like to include as beneficiaries in your will, you too can set out on an honorable service-oriented path and inspire your friends, family, and colleagues to follow suit.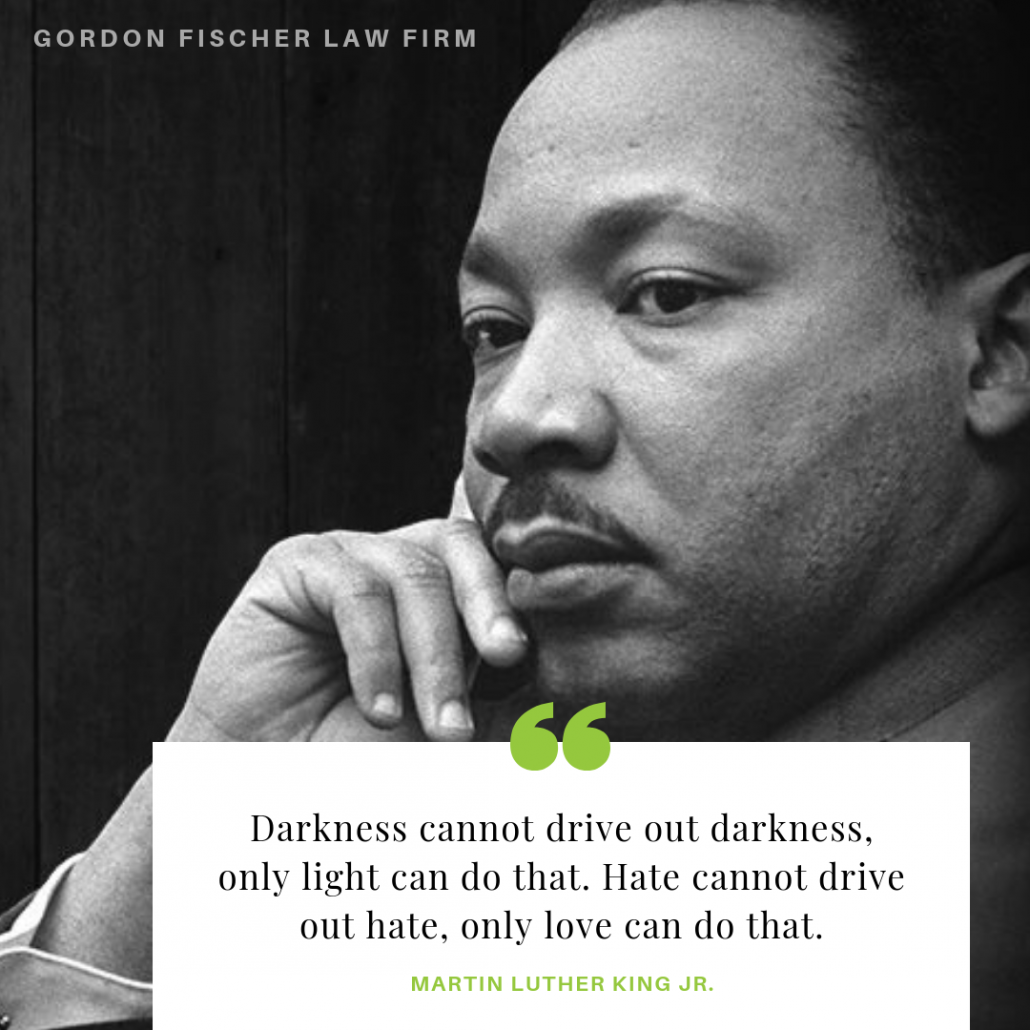 Dr. King's lessons resonate with our hearts and heads because we too have dreams of making our corners of the world a better place to learn, live, and grow through service. Maybe Dr. King's commitment to "practice what you preach" mentality has inspired you this year to give charitably more and more often. Maybe you considered his question, "What's your life's blueprint?" and decided to form the charity you've wanted to establish for a long time. Either way, don't hesitate to contact me for a free consultation. As Dr. King said: "The time is always right to do what is right."
/
by admin
https://www.gordonfischerlawfirm.com/wp-content/uploads/2018/01/MLK-s.jpg
300
900
admin
https://www.gordonfischerlawfirm.com/wp-content/uploads/2017/05/GFLF-logo-300x141.png
admin
2020-01-19 15:09:12
2020-01-20 21:01:36
Celebrating the Legacy of Martin Luther King Jr.

 What is a Grantor-Grantee Policy?
A grantor-grantee policy outlines how the organization expects the relationship with grantees (other organizations applying for funding or grants) to be structured. (Sometimes you'll see this type of policy called a funder-grantee policy.) A grantor-grantee policy will address details related to the beginning of the grant application process through evaluation and multiple points in between. The intended audience is both your internal board of directors and staff as well as current/prospective grantees.
This type of policy often sets forth details regarding the complicated details that should allow for a better, more transparent relationship from the get-go with grantees. The policy can be as general or as specific as needed for maximized effectiveness to the organization's specific situation. I'll explain some of the "common" points often included in successful grantor-grantee policies below.
Benefits of a Grantor-Grantee Policy
By outlining the process and details of grants, your organization benefits from having an approved, agreed-upon plan of action. This is a proactive step toward avoiding wasting time. A grantor-grantee policy also makes it simpler to navigate unexpected situations or complexities as an organization.
Grantees will certainly benefit from a clear-cut, candid grantor-grantee policy as well because it invites them to set realistic expectations about what a relationship with your organization will look like.
Common Points to Include in a Grantor-Grantee Policy
When drafting grantor-grantee policies, it's important that provisions included are directly related to your actual current and/or intended operations. (This is why it is important to have an attorney draft your policies as opposed to using something found off the internet—it probably won't apply!) The following are some points you'll want to consider as a part of a useful policy.
What basics should be included in the guidelines?
Consider details regarding:
How you want prospective grantees to approach your organization to submit an application or express interest. Is it by online application, email, letter, visit, etc.?
How quickly can prospective grantees expect a response to an initial inquiry or a submitted grant application? How will that contact be made?
What does the decision-making process look like? How often does the board meet, and when are decisions made?
You can also include here what you do NOT permit in terms of contact, meeting, or presentations by prospective grantees to avoid undue influence or even the appearance of unethical decision-making.
Are grants generally restricted, unrestricted, or on a case-by-case basis?
What is the timeline for funding?
Can applicants expect grants to be made on a rolling basis or are there specific deadlines?
What about the chance for grant renewals? When do those take place?
What are the types of proposals and information are you looking for?
Potential grantees will appreciate upfront information to decide whether to invest scarce resources and considerable time in an application for your organization. This invites a healthy amount of self-screening which enables you to evaluate the most appropriate applications. Consider these essential points:
Who is your ideal grantee? Do they need to operate in a certain location or within a specific realm of charitable purpose (such as, through work with animals, human services, or education)?
What are your preferred areas of funding? Some preferred funding areas can include: equipment; operating support; special programs/projects; financial stabilization; board/staff development; and capital projects. Will you accept proposals from outside your preferred areas or not at all?
What types of funding requests will you NEVER accept?
What qualifications and information will you consider in applications?
Do you want to give examples of previous grant applications you have funded? Do you want to list all grants made in the previous funding cycle in the policy or perhaps elsewhere (like on your website) or not at all?
What are the specifics of the grant application?
The grantor-grantee policy is not where your grant application should live, but important details about the application should be included. For instance:
What will you do to keep the application process reasonable? For instance, asking an applicant to make 10 copies for each individual board member may be unreasonable.
Where will the application be made available (online, in-person at the office, etc.) and in what formats (Word document; fillable PDF; etc.)?
How often will the grant application process and instructions be reviewed for inconsistencies and clarity? Once a year? Before any given application cycle?
What are the granting process logistics?
What is expected of grantees to confirm acceptance?
How will funds be distributed—at a specific check presentation event, through electronic transfer, or some other means?

How will the organization invite feedback?
Most grantees will not offer invaluable feedback unsolicited. Your organization may want to highlight how and when it will seek productive criticisms for continued growth.
You may not know an adjustment needs to be made until another organization tells you! How will you invite constructive feedback from current and prospective grantees regarding your funding application process? How will make certain it is seen as welcome and important?
What about an exit strategy?
Organizations evolve and priorities change. What does the process look like for informing grantees of a transition away from funding? Certainly, grantees should not expect support for forever, but they should expect respect and clarity when it comes to a grantor planning to pull support. Ample time and notification should be given, as well as the option for support in other ways (if applicable).
How about opportunities for collaboration?
In addition to or apart from funding, what are other ways you invite collaboration with past/current/future grantees? Beyond money, additional chances for working together can further strengthen community connections and enhance mutually beneficial partnerships.
Drafting Your Policies
I would be happy to discuss the particulars of your organization's needs and goals to ensure your grantor-grantee policy is tailormade to best set your organization up for granting success. Contact me at any time via email (gordon@gordonfischerlawfirm.com) or by phone (515-371-6077).
/
by Mackensie Graham
https://www.gordonfischerlawfirm.com/wp-content/uploads/2019/02/Screen-Shot-2019-02-17-at-11.38.48-AM.png
678
1039
Mackensie Graham
https://www.gordonfischerlawfirm.com/wp-content/uploads/2017/05/GFLF-logo-300x141.png
Mackensie Graham
2020-01-17 11:25:28
2020-01-17 23:03:58
Grantor-Grantee Policy Best Practices

I've written a lot about IRS Form 990 on this blog, but all nonprofits organized in Iowa or authorized to business in the state also need to file a Biennial Report with the office of the Iowa Secretary of State. The report is required under Iowa Code §504.1613.
The report is pretty basic and is essentially entity information updates of which the Iowa Secretary of State's office records. Report requirements vary by state, so I've laid out all the basics below!
When is my nonprofit's Biennial Report due?
Biennial Reports should be submitted between January 1 and April 1 in odd-numbered years (like this one, 2019!). An organization's first Biennial Report is due on the first odd-numbered year following the calendar year of formation. So, if your nonprofit was formed (meaning you submitted articles of incorporation) in October 2019, the first Biennial Report would be due by April 1, 2021.
Does someone have to sign it? Does it need to be notarized?
Yes; someone with authority in the organization should sign it (such as the president of the board of directors), however, original signatures are not required. Notarization is also not required.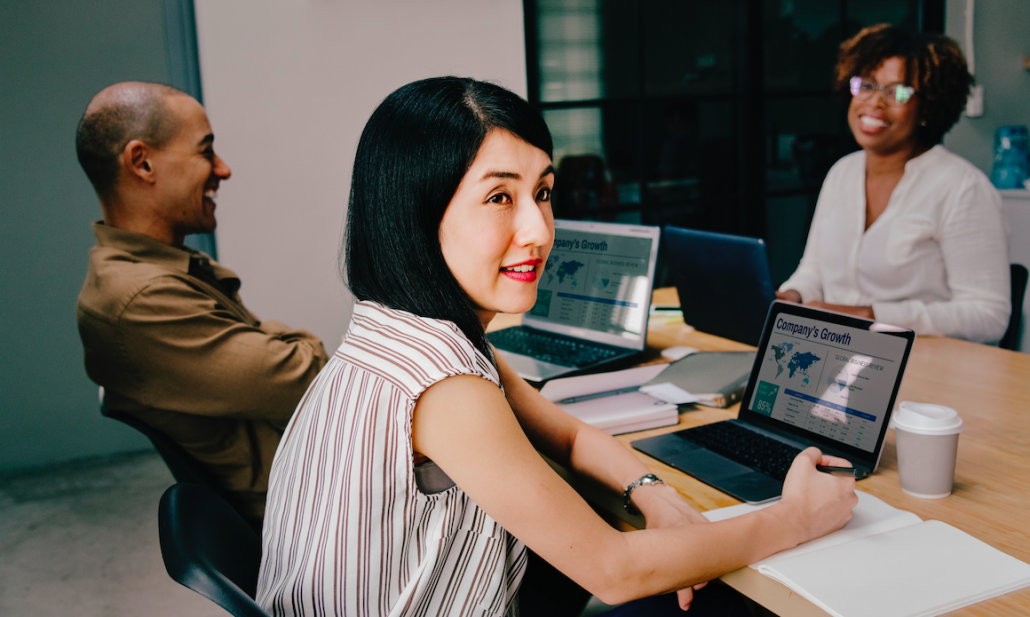 What information is included in the biennial report?
The statute requires the following information be reported. (Note that a nonprofit is still a "corporate" entity, even though we don't typically refer to nonprofit organizations like corporations.):
Name of the corporation
State or country under whose law the nonprofit incorporated
Address of the corporation's registered office
Name of the corporation's registered agent at that office in Iowa
Consent of any new registered agent, if applicable
Address of the corporation's principal office
Names and addresses of the president, secretary, treasurer, and one member of the board of directors
Whether or not the corporation has members
The information on the Biennial Report should be related to the two-year period immediately preceding the calendar year in which the report is filed.
Is there a form?
Yes, there is a form you can file online or by mail. You will need both the corporation number and a temporary code to begin the filing process. Each corporation's registered agent will receive a Biennial Report notice in early January.
Does it cost money?
Unlike the costs for LLCs or for-profit corporations, for nonprofit corporations, the filing fee is $0.
Other Considerations
While you're thinking about reporting, once you have the Biennial Report submitted turn your attention to Form 990. Do you know which version you can submit? Do you need to adopt any beneficial policies and procedures to boost your filing (and amplify good governance and successful operations in your organization)?
Don't hesitate to contact me with questions about any forms and reporting. It can seem like a pain at first, but the more prepared you are and the more knowledge you have, the faster you can get back to work, forwarding your mission.
/
by Mackensie Graham
https://www.gordonfischerlawfirm.com/wp-content/uploads/2019/01/Screen-Shot-2019-01-24-at-10.43.28-PM.png
660
907
Mackensie Graham
https://www.gordonfischerlawfirm.com/wp-content/uploads/2017/05/GFLF-logo-300x141.png
Mackensie Graham
2020-01-15 22:46:15
2020-01-17 23:05:37
Nonprofit Need to Know: File the Iowa Biennial Report