Happy Presidents Day! Even if you don't have today off of work on this federal holiday, it's a good day to think about the first and pretty incredible leader of the United States, George Washington. First recognized by Congress in 1885, the holiday was first celebrated on Washington's birthday, February 22. Eventually, the day shifted to the third Monday in February after the Uniform Monday Holiday Act. Instead of celebrating by chopping down a cherry tree (just kidding, that's a myth), consider the ways Washington's own estate planning can inspire you to get your affairs in order.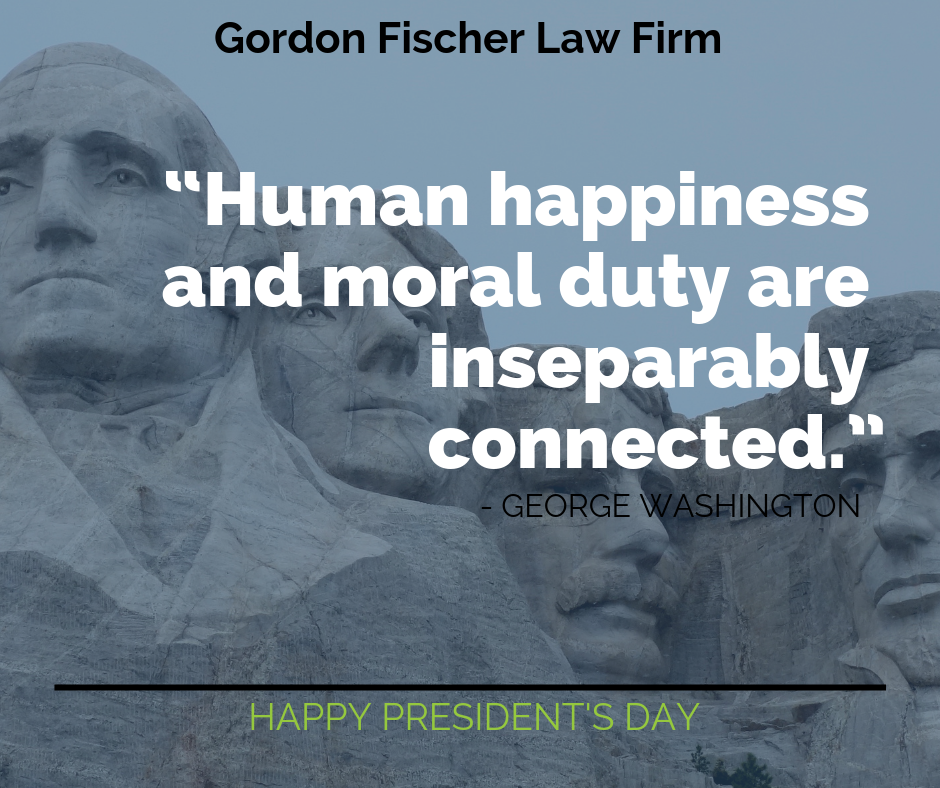 Washington Wrote His Own Will
This is probably a terrible point to start on, as I cannot encourage you to write your own estate plan. There are so many ways that this can go wrong from lacking requisite formalities, mistaking property laws, and risking the document being found entirely invalid. All of these errors can result in a situation that causes your loved ones heartache, confusion and can maybe even lead to litigation. But, history is what it is. Washington wrote his own will and dated it July 9, 1799, not long before his death on December 14 that same year. However, considering Washington was one of the wealthiest presidents of all time, if he were living today, he would definitely want to enlist a team of professional advisors to make sure all of his assets were accounted for and passed on in a tax-strategic way.
Washington Made Two Wills
Washington was a smart man, clearly. He had, not just one, but two last will and testament documents! Of course, you don't need and shouldn't have two estate plans, but you should update your estate plan regularly when changes may affect your estate plan's effectiveness or determine who you include as a beneficiary, executor, or guardian.
Washington was apparently on his deathbed when he asked his wife, Martha, to bring him both editions of his will. He had her burn one so the "real" one was competing against the other version. Again, it's the principle that sometimes you need to make important changes to your plan that's important here!
Washington Included His Charitable Goals
Washington left the entirety of his estate to his wife. However, he also wanted to benefit the causes he cared most about. Washington was concerned about American youth being sent to Europe for formal educations and wanted to benefit higher education institutions in the growing United States. He left 100 shares he held in a company called James River Co. to help, what ultimately became, Washington and Lee University. He also left 50 shares in a different company to endow a D.C. university (which never came to fruition).
Like Washington, you too can give to the charitable organizations and causes you care about by naming them in your estate plan as beneficiaries of certain amounts of money or of a certain percentage of your estate.
Washington Chose His Executors Wisely
Most folks I work with only choose one or two main executors of their estate plan, and then also name an alternate or two if the first choice doesn't work out. Washington named a full seven executors to oversee that his wishes and dispersion of property was carried out. His executors included his grandson, five nephews, and his wife.
In Washington We Trust
Probate can take a long time, especially if you pass away intestate (without an estate plan). But Washington's estate, unfortunately, took an excruciatingly long time to be completely settled. For reasons unknown, appraisal of the estate wasn't filed with the court until 1810! And then, the estate was not fully closed until 1847. Yikes. If you would the majority or all of your estate to avoid probate, you may want to consider a trust of some sort.
Power to the People…To Make Thier Wishes Known
As Washington said, "It is better to offer no excuse than a bad one." Drop the estate planning excuses! You don't need presidential power to make a quality estate plan that meets your goals. One of the easiest ways to get started with my free, no-obligation Estate Plan Questionnaire.
/
by Mackensie Graham
https://www.gordonfischerlawfirm.com/wp-content/uploads/2019/02/Screen-Shot-2019-02-18-at-11.10.01-PM-e1550553165427.png
464
931
Mackensie Graham
https://www.gordonfischerlawfirm.com/wp-content/uploads/2017/05/GFLF-logo-300x141.png
Mackensie Graham
2019-02-18 23:10:44
2019-02-18 23:12:52
Happy Presidents Day: Learn From George Washington's Estate Plan

Hopefully, by now you have had a chance to read last month's GoFisch Book Club pick, "Made to Stick: Why Some Ideas Survive and Others Die." While I could complain about how the weather right now in Iowa is in a perpetual state of snow-ice-snow-wind-freezing rain, it's actually a great excuse to curl up with cocoa and a great book. The title for this month is not a new book, but it is an enticing, mystery involving, what else, estate planning!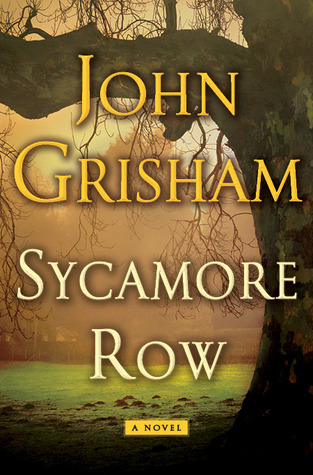 Published in 2013, John Grisham's Sycamore Row leads readers on a trip to the south in 1980's Mississippi where a wealthy white man, Seth Hubbard, commits suicide and leaves his entire estate to his black housekeeper, Lettie Lang, instead of his two adult children, Herschel and Ramona. (I bring up the race of the characters because racism and prejudice are important themes in the novel's setting and plot conflicts.) Sycamore Row is a sequel for fan-favorite character and fictional attorney, Jake Brigance, who was introduced to the world in Grisham's most famous book, A Time to Kill.
Brigance is instructed by the decedent to defend his will against the inevitable controversy and litigation he anticipates will ensue. Over the course of the thriller, another will is unearthed which disposes the estate to Hubbard's children. There are also serious questions about Hubbard's purported testamentary capacity, as well as undue influence on the legal documents in question.
Grisham's career as an attorney has clearly influenced his writing, and this novel offers suspense and intrigue around the topic of estate planning, while also reinforcing the importance of making a valid estate plan, keeping it updated, and discussing your decisions with your family.
What are your thoughts on Sycamore Row? I would love to hear them! Also, if the book inspires you to make certain you have a valid estate plan in place so that you can disperse your estate in accordance with your wishes, don't hesitate to contact me! You can also get started on your estate plan with my free, no-obligation Estate Plan Questionnaire.
/
by Mackensie Graham
https://www.gordonfischerlawfirm.com/wp-content/uploads/2019/02/Screen-Shot-2019-02-17-at-4.12.57-PM.png
598
1052
Mackensie Graham
https://www.gordonfischerlawfirm.com/wp-content/uploads/2017/05/GFLF-logo-300x141.png
Mackensie Graham
2019-02-16 12:33:49
2019-02-19 21:53:46
Cozy Up this GoFisch Book Club Pick: Sycamore Row

I was scrolling through Netflix the other night and finally landed on The Aviator, which I haven't seen in a while. The 2004 Scorsese film starring Leonardo DiCaprio tells the story of the eccentric aviation magnate and movie producer, Howard Hughes, who tragically battled OCD, paranoia, and chronic pain (from a near-death plane crash) and spent his later life as a hermit. That led me down a rabbit hole of internet research into the real Howard Hughes. As an estate planner, I naturally wondered what happened to his estate when he passed away in 1976. (Perhaps fittingly the aviator passed away in an airplane.)
Even if You're Not a Billionaire, You Need an Estate Plan
Unfortunately, the tale of the Hughes estate is a cautionary one of what NOT to do.
Hughes—who was reputed to be one of the wealthiest men in the world—died intestate, meaning he died without a valid will. That can cause chaos, confusion, and cost ample time and money for regular folks. But, when your estate is worth billions like Hughes' was, it causes a mass tangle of court proceedings. In the case of the Hughes estate, debate and disputes lasted a total of 34 years.
In the aftermath of his death, several documents were brought forth alleging to be the magnate's will. All were deemed to be forgeries. A Nevada court determined Hughes died intestate, meaning the law determines how assets are distributed to heirs-at-law. However, Hughes died divorced (allegedly) and without any close relatives; he left no clear heir(s). This debacle of no will meant that many people came out of the woodwork claiming to be relatives.
A Messy Web of Forgeries, Fraud, & Litigation
So, after years of attorneys, courts, and dubious claims, what actually transpired?
Eventually, $2.5 billion was split between 22 of Hughes legal cousins in 1983. (Undoubtedly he didn't know some or even the majority of these people. It's also been said he didn't want his money to go to his distant relatives, but without an estate plan, his wishes were steamrolled by probate law.) In an interesting twist, a woman named Terry Moore came forth claiming she married Hughes on a boat in international in 1949 and that they were never divorced. She didn't produce any proof of the marriage (like a marriage certificate), but the estate paid her a $400,000.
The Supreme Court even had to step in. They ruled in the messy dispersion of assets that the Howard Hughes Medical Institute owned Hughes Aircraft, which it then sold off in 1985 to General Motors for more than $5 billion. The Court also rejected lawsuits brought by Texas and California, claiming they were owed inheritance taxes, but the suits were eventually put to rest with settlements of $50 million and $150 million respectively in property and/or cash.
In 2010, more than three decades after Hughes passed, the last slice of Hughes pie (Summerlin residential development community near Las Vegas) was liquidated.
Leave a Valuable Legacy
Undoubtedly, Hughes left his mark on 20th century American history. However, his legacy could have been cemented in the way he wanted (probably giving the bulk of his estate to the Howard Hughes Medical Institute and nothing to long lost cousins) if he would have had a proper estate plan created completed with valuable strategic tools like different trusts and charitable giving vehicles. While most of us will never have an estate valued even close to the likes of Hughes, we can be smart with what we do have and make certain what we choose is dispersed to whom we choose, when we choose. There's no need for your assets to be tied up in red tape or be dispersed in a way that's not fitting with your wishes.
Contact me with your estate planning questions, or get started with my free, no-obligation Estate Plan Questionnaire, which will help you organize important information needed for the plan in one place.
/
by Mackensie Graham
https://www.gordonfischerlawfirm.com/wp-content/uploads/2019/02/Screen-Shot-2019-02-11-at-9.55.29-PM.png
627
904
Mackensie Graham
https://www.gordonfischerlawfirm.com/wp-content/uploads/2017/05/GFLF-logo-300x141.png
Mackensie Graham
2019-02-15 22:03:59
2019-02-17 11:32:55
The Howard Hughes Estate: A Cautionary Tale